Gear Review: 6 Reasons WOOM Is the Best Kid's Bike Out There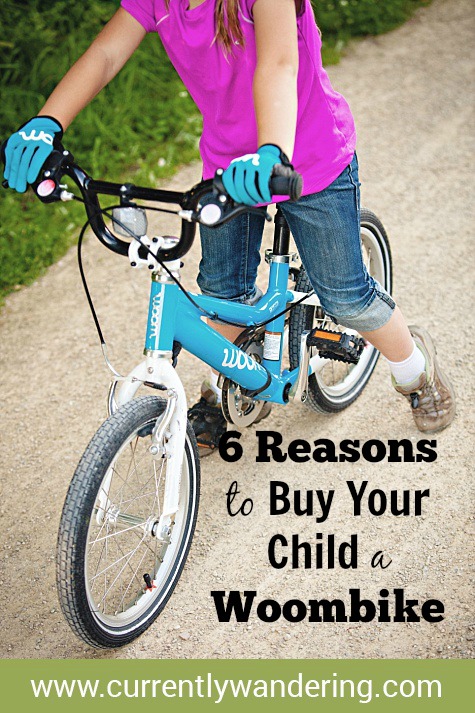 We knew Cara was in the market for a new bike, but we kept putting it off. With how much we ride bikes (including the crazy mountain biking she's done on her strider- see our YouTube video here), we also knew that a cheap bike from Wal-Mart was just not going to cut it. Since we didn't know what to do, we just did….nothing.
Then we found out about WOOM Bikes. These are seriously awesome. After learning about this company I knew we wanted one of their bikes for Cara, and after a short email conversation they were gracious enough to send us a WOOM3 bike for review.
Note: The company behind WOOM Bikes is German, so 'woom' is pronounced 'voom.' Makes sense, right?
The short story is that, as parents, we absolutely LOVE this bike. Cara loves it too and has totally taken off riding as we expected her too. Yes, they are pricey, but they also have a fantastic Upcycle program (if you don't have younger children to pass the bike on to). With how much we ride and enjoy riding long distances having a great bike for our kids is super important.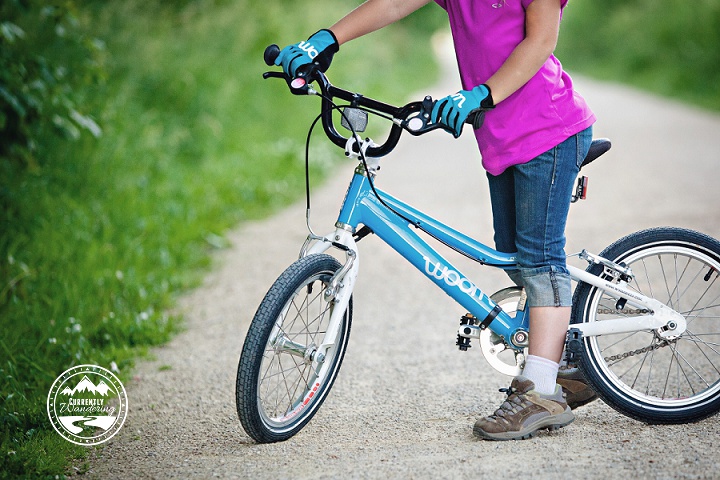 For the longer version, read on for our Our Top 6 Reasons WOOM Bikes Are the BEST:
I do have some experience adjusting and maintaining bikes, but none was necessary. The bike arrived packaged carefully, and nearly fully assembled. The included instructions were easy to follow, and there were only a few steps. Mostly, putting it together involves tightening screws with an allen wrench. No allen wrenches? No problem. Included in the package with the bike was the allen wrenches needed, along with a pedal wrench needed for attaching the pedals.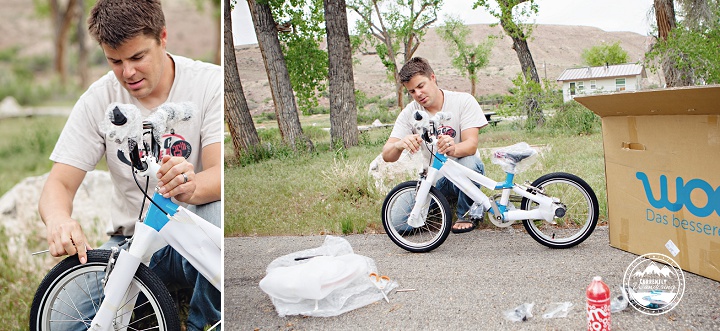 All in, it took only 30 to 45 minutes start to finish to assemble the bike and Cara was pretty excited when we pulled the bike out from behind the Airstream:

Neither of us felt comfortable taking Cara mountain biking with just a pedal coaster brake. After talking to a generic bike shop about putting a handbrake on a kid's bike, he mentioned that most kids' hands are too small to reach and lack the pulling power to actually stop themselves with a handbrake. WOOM has totally solved this problem with brakes specifically designed for little hands. Cara has no problems using the handbrakes to come to a standstill even from pretty fast speeds.
There's a small rubber ring that attaches the front wheel to a boss on the frame. This keeps the front wheel from turning all the way around, or a child from turning the wheel too far too fast and eating hard on the pavement. This might sound like a small thing, but really helps a child worry less and feel confidant learning to ride.

USA laws are different in that we require a coaster brake for young kid bikes. This makes it incredibly difficult to get started on a bike because they can't pedal backwards to line up the pedals for a good take off. Woom has figured a way to design the Woom so that it can have a freewheel and skip the whole coaster brake problem. It is awesome. We just had to make sure she could fully rely on the handbrakes, but since she hadn't ever ridden a bike with any brakes, there were no bad habits to unlearn.
Have you ever hefted a generic bike from Wal-Mart or Target? They are HEAVY. Just think of your small child having to pedal that sucker up a hill. Its all work and no fun! The lighter the bike, the easier it is to ride, and the more fun your child will have! WOOM easily takes the prize for the lightest child's bike I have ever lifted.
This sounds petty, but when you want your child to stay on their bike for long periods of time, the seat just has to be comfortable. WOOM has done a great job with this, as the seat is comfy but not overly plush.

In addition to the bikes, WOOM also sells accessories you can add on:
Definitely an essential for kids. Plus, its fun. Be warned that in order to install the water bottle holder onto at least the WOOM3, you have to remove the chain guard. This is not a big deal on a bike with no gears and the chain guard is useless anyway. It is just another USA law they have to comply with.
They may not seem that important at first, but after watching Cara ride 5 miles on her strider bike and end with her hands all torn up and red they became essential. Longer distances = more stress on hands, and having your child wear gloves is an easy fix. WOOM's gloves are great. They are full fingered, but have air vents up the sides of each finger so their little hands don't get too hot. Plus, they are super cute and Cara loves the ice cream cones!

**We had JUST bought Cara a pair of gloves before the bike arrived (wasn't aware they were sending us gloves to review as well!!) so that's what the pink ones are. She loves them equally and will wear them interchangeably depending on her mood.
We absolutely love the WOOM3! Cara loves riding her bike, and for a family of people on bikes that is really important to us. Since our very first riding session on this bike (pictured here) we have had the bike out many more times in the weeks to follow, and Cara continues to grow in her strength and confidence. After the review period, we have the option to buy the review bike (with a discount) and we will be doing so. I only wish WOOM had been created a few years earlier,so we could've started our older kids on them!

For those of you that are more visual here is our YouTube review of the WOOM3:

Related posts:
Crabbing on the Oregon Coast at Kelly's Brighton Marina
Sometimes You Just Gotta Mountain Bike Solo – Ironton, Minnesota
The Currently Wandering Holiday Gift Guide
Gear Review: Testing Out Kid's Chaco Sandals